Festive Offering For 2023
Stewart Collins
Regular customers of S. Collins & Son will be delighted to know that we have now launched our Festive Ordering website for 2023. Customers can visit the Festive Ordering Website by clicking on this link – 2023 Festive Ordering Website and they can also browse all our 2023 festive products, simply by clicking on the following link – 2023 Festive brochure.
Following some great customer feedback, we've upgraded our website to make ordering easier for customers. As well as being able to book their preferred collection time slot (which was a very popular addition that we made last year) customers will find it easier to navigate on our festive ordering website, thanks to the regrouping of our products into seven new 'festive categories', making it easier to find all your festive favourites.
Our new festive categories are as follows:
We've also added a search engine to the site to help customers find the products they are looking for quicker and as they start to populate their online basket we have also introduced a new feature that suggests other products to you that relate to the products that you've already chosen, just to jog your memory in case you've forgotten anything.
We would suggest that customers book their preferred time slot as early as possible to ensure they get the collection time that suits their plans around the festive period.
New Products For 2023
We have introduced several new products to our 2023 festive offering, which are all available to order through the Festive Ordering Website. We're especially excited to let our customers know about a new range of turkeys that will be available to purchase this year from Caldecott's Farm. We are stocking Bronze Free Range of Turkeys from Caldecott's, which are available for sale, in weights of 4, 5 and 6kg. The texture and flavour of the meat in this turkey is of the highest quality.
Supporting A Good Cause
For many, Christmas is the time of giving and here at S. Collins & Sons we also like to play our part, so like last year, we will be again supporting the St. Andrews Hospice, which we know from speaking to our customers it's a cause that close to their hearts.
Customers will also have the ability to make a donation at the checkout. This is completely voluntary and customers are under no obligation to make a donation when placing their order and we will also be playing our part by donating £5 towards the St. Andrews Hospice for every hamper that we sell. We will make an announcement in January as to the total sum raised.
Collection Slots & Opening Hours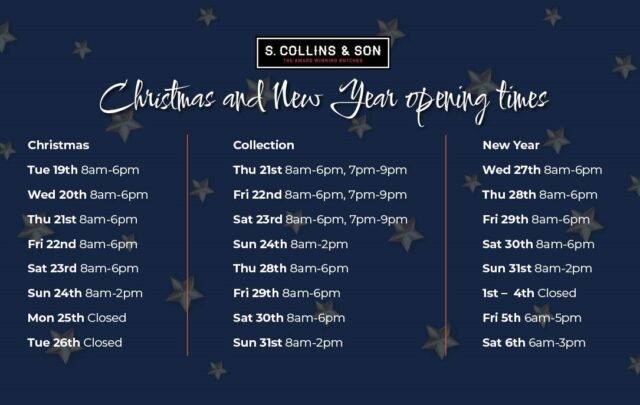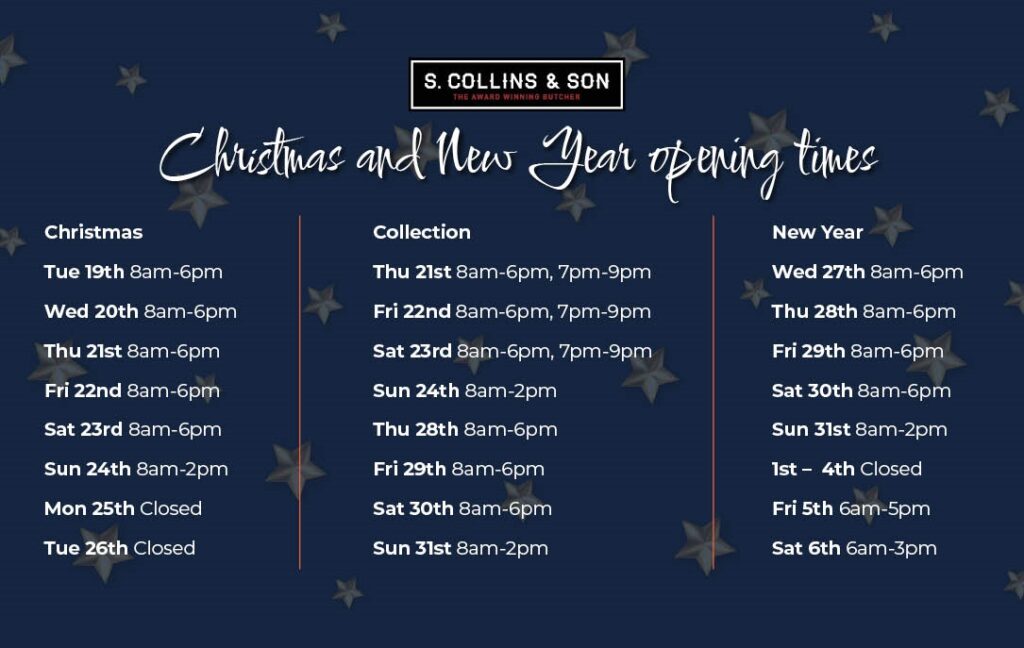 Due to demand, we have once again expanded the number of collection slots available to customers each day, with collections offered for Christmas orders between Thursday 21st – Sunday 24th December (daytime collections) and between Thursday 21st – Saturday 23rd December (evening collections). For those customers who have placed New Year orders with us, please note that these will be available for collection between Thursday 28th – Sunday 31st December, during the day.
So why not beat the rush, all from the comfort of your own armchair and place your festive order with us. We're looking forward to a busy festive period and we hope you and your family have a great time and once again, thank you for supporting S. Collins & Son.
Stewart Collins
Snr. Partner, S. Collins & Son